Cyber PT

has been kind enough to publish one of Kettlebell Therapy's most popularly read articles, "Restoring Movement with Natural Physics" by Dr. Ben Fung, PT, DPT.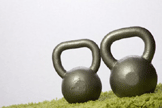 As a Physical Therapist, I have used kettlebells to rehabilitate and promote health in individuals with low back pain, shoulder impingement, ankle sprains, medial knee pain, myocardial infarction, mitral valve replacement, and much more. Who would have thought that a cast iron ball would be so clinically effective and versatile?
Like most people, when I first saw a kettlebell, I was simultaneously confused and amused. My first exposure to kettlebells happened at a martial arts seminar in San Diego when one of the instructors lugged out a 53 pound iron-wrecking-ball with a handle fused to the top of it. He called the object a "kettlebell" – it looks like a tea kettle and it swings like a church bell. He began a demonstration and spoke on the benefits and martial arts applications of kettlebell exercise. I had little interest in new trends and was much less inclined to try it out myself – that is, until I saw one of the seminar leaders struggle with the most basic and foundational exercise, the ballistic kettlebell swing.
The rest of "
Restoring Movement with Natural Physics
" is available on Cyber PT at:
http://www.cyberpt.com/kettlebell_therapy.asp
Be sure to visit and support

CyberPT.com

!
Cyber PT is also available on Facebook & Twitter: